John Green has a very unique writing style. This isn't the first book that I've read by him. The first book I read was The Fault In Our Stars, which I remember enjoying. 
In the future I also plan on reading Looking For Alaska, Turtle's All The Way Down, and Paper Towns, but I have so much on my TBR list that those will have to wait.  
The Abundance of Katherines really surprised me with how it was written. I've never read a fiction book that contained its own footnotes. I thought that this was a unique way to add to the main characters quirky habits.  (More on that later.) Please see my full review below. 
Synopsis: 
From the #1 bestselling author of Turtles All the Way Down and The Fault in Our Stars
Michael L. Printz Honor Book

Los Angeles Times Book Prize Finalist

New York Times Bestseller
When it comes to relationships, Colin Singleton's type is girls named Katherine. And when it comes to girls named Katherine, Colin is always getting dumped. Nineteen times, to be exact. On a road trip miles from home, this anagram-happy, washed-up child prodigy has ten thousand dollars in his pocket, a bloodthirsty feral hog on his trail, and an overweight, Judge Judy–loving best friend riding shotgun—but no Katherines. Colin is on a mission to prove The Theorem of Underlying Katherine Predictability, which he hopes will predict the future of any relationship, avenge Dumpees everywhere, and finally win him the girl. Love, friendship, and a dead Austro-Hungarian archduke add up to surprising and heart-changing conclusions in this ingeniously layered comic novel about reinventing oneself.
Los Angeles Times Book Prize Finalist
New York Times Bestseller
My Review:
I give The Abundance of Katherines, three and a half stars.
The book has a little bit of everything: love, humor, likable characters and interesting facts throughout the story that kept me fairly engaged.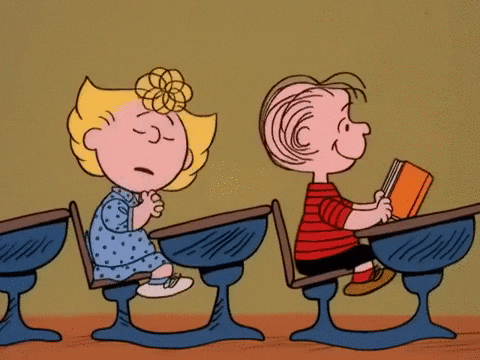 The reason this book did not get five stars from me is because I could've done without all the math facts, I also fell asleep reading it twice. I get that math was a huge part of the plot, but when I read stuff about math I instantly go full Peanuts teacher mode and it starts to sound like "Waa Waa Waa". I also found myself literally sleeping on the book a few times because the math and other intellectual factoids like anagrams got boring after a while. 
Since I have only read one book by John Green, I really enjoyed that the book was unlike anything else I've ever read. The book has actual footnotes at the bottom that could be quite hilarious at times, also very educational.  THE MATH... Yeah I could've done without it. I found Colin's character to be quite whiny and often stale, but I really enjoyed Hassan which kept the story going, and Lindsey and her mother's characters were written quite well. The book flowed well and it was short, which made it easier to read than some books I have not finished in the past. I like the ending and how everything came together. I'll admit, I skipped the Appendix--not a math fan.  But overall I would give this book a solid three and a half stars for all the humor Hassan, Lindsey and her mother bring to the story. If you would like to read The Abundance of Katherines  you can pick it up by clicking:
A Little Side Note:
This book fulfilled two of my challenges on the Pop Sugar Reading Challenge. 

A book that I picked because the title caught my attention, and in the advanced category a book that has more than twenty letters in the title.  
In my first book blog for the year I also mentioned another challenge I'm doing simultaneously with the Pop Sugar Challenge. I'm currently doing the NA Goodreads Challenge.  The challenge is to read twenty six books or more in the NA category only.  The Abundance of Katherines can be considered a NA book because Colin is getting ready to go to College and is between 18 -24 years old. 
I chose the Easy level because I don't read a lot, although, I'm trying to read more.  
I'm going to use The Abundance of Katherines for my first qualification for the contest, and put it under the letter "A" for Algorithms.(Read a book featuring a smart/geek character)  
As I go, I will be posting what books I read for both challenges and posting them in future blog posts. 
If you wish to start the Goodreads New Adult Challenge, You can find the challenge by clicking the following link:
2020 Goodreads New Adult Challenge
Here is some more information about the challenge:
Duration: January 1st, 2020 - December 31, 2020

Rules:

✔ This reading challenge will start on January 1, 2020 and end on December 31, 2020. Books used for this challenge MUST be read during this time frame.

✔ As long as the books were read in 2020, you can join the challenge any time during the year.

✔ You can choose your level, depending on how many NA books you're planning to read in 2020.

✔ There will be THREE WINNERS for this challenge, one for each level. Everyone that completes their selected challenge's levels, will go into the draw to win a surprise prize pack at the end of the year. You could win books, gift cards, book gadgets and other amazing prizes.

✔ All books must be New Adult (NA) and a minimum of 120 pages.

✔ Books can be read in any order.

✔ All books must be marked as read in your Goodreads Bookshelves

✔ No re-reads allowed, unless stated in the prompts

✔ Copy and paste the Challenge Prompts list, and edit your original post as you go along to keep track of your progress.

✔ Be sure to write the level you choose, and to put the following information for each task completed: link and/or cover of the book cover next to the letter, the date it was read, how many stars you award the book and explain how the book fits the particular challenge point.

Levels:

★ Easy (Single Round): Read 26 books, one for each letter of the alphabet listed below
★ Hard (Two Rounds): Read 52 books, two for each letter of the alphabet listed below
★ Insane (Three Rounds): Read 78 books, three for each letter of the alphabet listed below


A:
📚AUTHOR: Read a book written by one of your favorite authors
📚ALGORITHM: Read a book that features a smart/geek character (The Abundance of Katherines by John, Green)
📚ALPHABET: Read a book written by an author who has your initials

B:
📚BAD-ASS: Read a book that features a strong/independent heroine
📚BROODY: Read a book that features a broody/introvert/serious character
📚BAD BOY: Read a book where the MC is a bad boy

C:
📚CLOTHES: Read a book with an item of clothing or accessory on the cover
📚COVER: Read a book you choose solely for the cover
📚CUDDLE: Read a sweet story

D:
📚DOCTOR: Read a book with a character who works in the medical field or a book where someone get hurts and needs medical assistance
📚DISTANCE: Read a book that features a long distance relationship
📚DIVA: Read a book that features a vain, superficial heroine who acts like a diva

E:
📚ELEMENTS: Read a book with one of the four elements in the title (air/fire/water/earth)
📚ENEMIES: Read an enemies-to-lovers romance
📚EMOTION: Read a book that makes you cry or gives you strong emotions

F:
📚FRATERNITY: Read a book that features characters who are in a fraternity
📚FUTURE: Read a book published in 2020
📚FREEBIE: Read a book that you got for free (it could be a gift, a freebie, an arc, etc.)

G:
📚GEOGRAPHY: Read a book set in a country you would like to visit
📚GULLIBLE: Read a book that features a gullible/naive character
📚GHOST: Read a book that features a ghost

H:
📚HEIST: Read a book where some kind of crime/felony is committed
📚HOLIDAYS: Read a book that features an holiday (it could be any kind of holiday)
📚HERO: Read a book with an hero that makes you fall in love

I:
📚INSTANT-CHEMISTRY: Read a book where the main characters fall in love pretty quickly
📚IRRITABLE: Read a book that features a character you can't stand
📚INFIDELITY: read a book where cheating is involved

J:
📚JOLLY: Read a book that puts a smile on your face
📚JOCK: Read a book that features a jock
📚JAZZ: Read a book set in the music industry

K:
📚KING: Read a book that features royalty
📚KISS: Read a book with a cover that features people kissing and/or hugging
📚KUDOS: Read a book that has either at least 15.000 rating on Goodreads or an average of 4.3 or higher

L:
📚LIQUOR: Read a book where someone gets drunk
📚LOVE: Read a love story
📚LABOR: Read a book that feature a character who is part of the working class

M:
📚MYSTERY: Read a book that is tagged mystery and/or thriller
📚MOTORCYCLE: Read a book that features a motorcycle club or a character who owns a motorcycle
📚MULTIPLE: Read a book told in multiple POVs

N:
📚NOT-MY-CUP-OF-TEA: Read a book that is out of your comfort zone
📚NOVELLA: Read a book that is less that 200 pages
📚NOVELTY: Read a debut novel

O:
📚ORIGINAL: Read a story that has an original/unique plot
📚OSCAR: Read a book that has become (or is going to become) a movie or tv series
📚ONE: Read a book with a number in the title

P:
📚PAST: Read a book set in the past
📚POSTPONE: Read a book you were supposed to read last year
📚PRIDE: Read a LGBT book

Q:
📚QUARTERBACK: Read a sports romance
📚QUESTION: Read a book that makes you question yourself
📚QUARREL: Read a book where people fight

R:
📚RING: Read a book where people get engaged and/or married
📚RED: Read a book with a mainly red cover
📚RUDE: Read a book that features a rude/insolent/obnoxious character

S:
📚SCHOOL: Read a book set in high school
📚SUGGESTION: Read a book that was recommended to you by a friend or by someone on social media (book tube, bookstagram, etc.)
📚SERIES: Read a book that is part of a series

T:
📚THREE: Read a book with a 3-words title
📚TREE: Read a book with trees or nature elements on the cover
📚TOP: Re-read one of your all time favorite books

U:
📚UNREQUITED: Read a book that features an unrequited love (at least for part of the story)
📚UNIVERSITY: Read a book set in college
📚UNHEALTHY: Read a book that features a relationship that you think is unhealthy

V::
📚VIOLET: Read a book with violet/purple on the cover
📚VAMPIRE: Read a book that features vampires in the story
📚VIVID: Read a book with a very colorful cover

W:
📚WILD: Read a book set in the wilderness
📚WARLOCK: Read a book with magic in it
📚WHITE: read a book with a mainly white cover

X:
📚X-RATED: Read a steamy story
📚X: Read a book with the letter "X" somewhere in the title
📚XEROX: Read a story that takes place in an office (at least partially)

Y:
📚YEAR: Read a book that was published last year (2019)
📚YOUTH: Read a coming of age story
📚YOU: Read a book with the word "you" in the title

Z:
📚ZEBRA: Read a book with a black and white cover
📚ZEST: Read a book you're very passionate about (one of your most anticipated reads for 2020)
📚ZEALOUS: Read a book that features a zealous/dynamic character
Please reload